The market depth tool allows you to view all the other buyers and sellers in the market for a certain stock. It will show all 'in market' orders with the quantities as well as the asking price submitted by the order placer.
When your order enters the market it will go into a queue for the price you set and will be visible in the market depth tool alongside other orders.
If you are buying at a certain price your order will need to pair off against another trader's sell order for the same price. Vice versa, if you are selling.
To view the market depth for a security, go to:
Stock Analysis > Analysis > Enter the Ticker Code > Choose the 'Market Depth' tab
Annotation of the Market Depth Page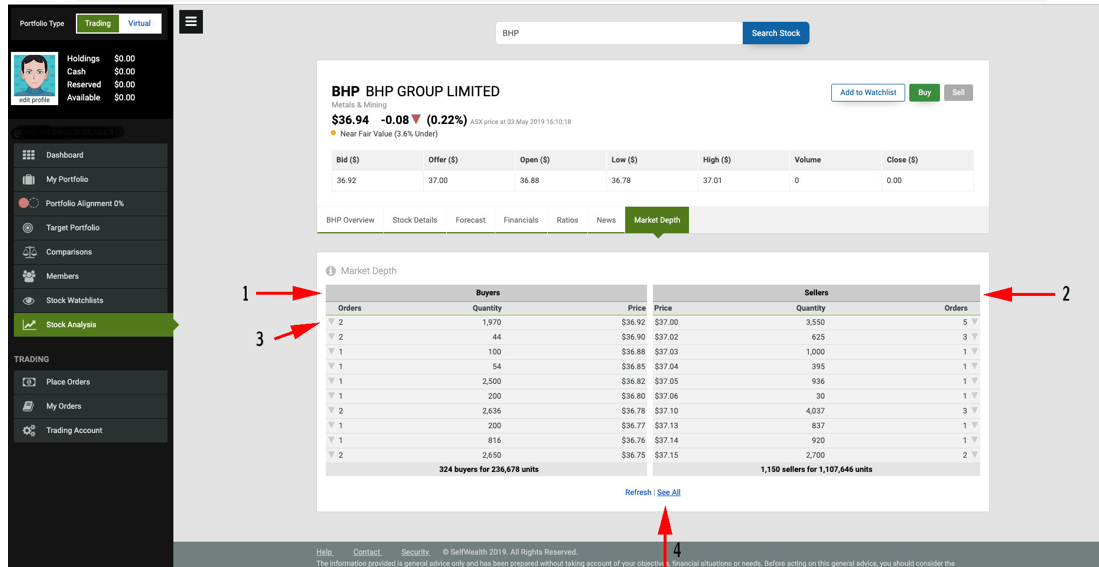 The list of all the pending buy orders for BHP.
The list of all the pending Sell orders for BHP.
The orders at the top of the queue are the current best offers to buy in the market. The number 2 represents how many buy orders there are at that price. The quantity displayed is all of the orders for that price combined. Click the mini arrow next to the orders number to see a breakdown of the orders individually.
Click 'See All' which will expand the market depth so you can see every pending order in the market.