There are many reasons an order might be cancelled before it is fully filled. You can view the cancellation reason for an order by clicking Trading Account > My Orders, and then clicking on the relevant order. The cancellation reason will be displayed in blue at the top of the page.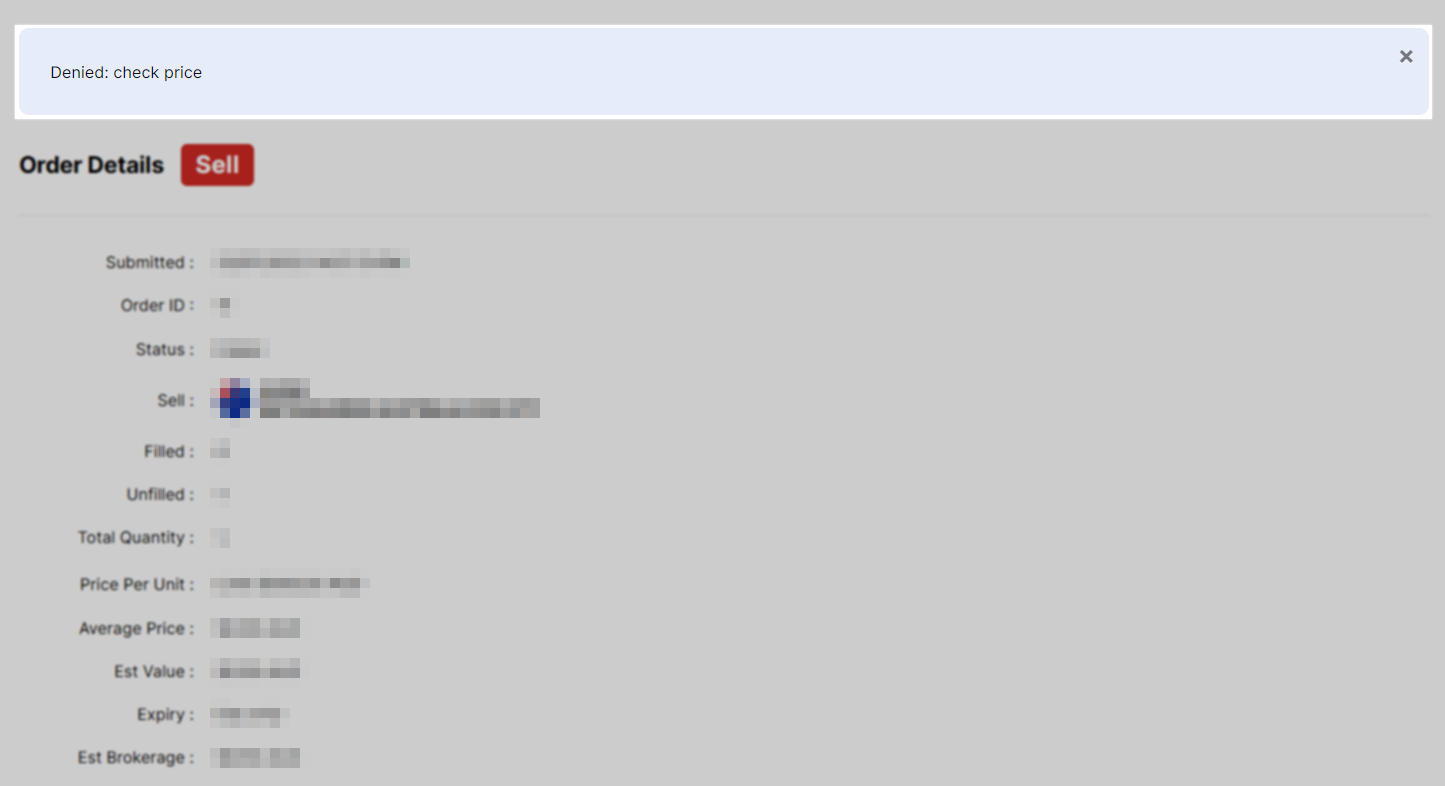 We've outlined some of the most common reasons for order cancellation below:
Your Order Doesn't Comply with Order Pricing Rules
The ASX has put pricing parameters in place to prevent market manipulation and ensure a fair and orderly market is maintained. For example, when trading ASX shares entering a price too far from the last traded price may result in an order being cancelled.
A 'price step' is the minimum amount that you can increase/decrease your order price by. The price step size will vary depending on the last traded price of the security. For example, if a stock is trading at $17.65, its price step is one cent, therefore you may enter an order with a price of $17.66 or $17.67 but you cannot enter an order at $17.675.
The maximum allowed increase/decrease from the last traded price is also expressed as a number of price steps. The below table outlines the minimum and maximum number of price steps allowed based on the last traded price of a security.

As a general rule of thumb, a difference of more than 10% from the last traded price will likely result in an order being rejected.
A Corporate Action Has Occurred
The exchange will purge all orders at market close on the day prior to a stock turning ex-dividend or ex-entitlement.
Some of the reasons this might occur include a dividend being issued, a capital reconstruction taking place or the offering of new securities (i.e. a rights issue, share purchase plan or capital return).
Your Order Has Expired
When you place an order, you choose whether it is 'day only' or 'good till date'. 'Day only' means that your order will expire following market close (on the same day the order was placed). 'Good till date' means your order will remain in the market until the expiry date selected.
For more information on how order expiry works please click here.
At the Discretion of the ASX
An order may also be cancelled or purged at the discretion of the ASX or your market participant. For further information, you may refer to the Openmarkets Terms and Conditions.