After you complete a trade, we will email a contract note to your registered email address (i.e. the email address used to log into your Selfwealth account). This is referred to as your 'primary email address' and will act as the default email address for all contract notes.
For joint or trust accounts (or any other account type managed by multiple individuals), all individuals on the account will receive a contract note to their primary email address.
You can also nominate additional email addresses to receive contract notes. This is how Selfwealth integrates with portfolio trackers such as Sharesight.
Updating Your 'Primary Email Address'
For more information on how to update your primary email address, click here.
Adding Additional Contract Note Email Addresses
You can add additional email addresses to receive contract notes by following the below steps:
1. Log in to the Selfwealth website.
2. Click Trading Account on the left-hand navigation bar.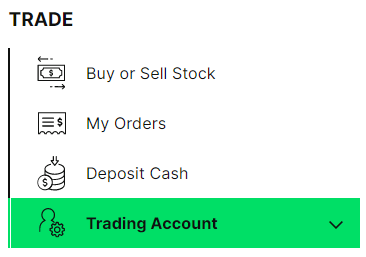 3. Click on the Contract Notes tab.

4. Under 'Contact Note Email Addresses', click Add New.

5. Type the email address you wish to add into the provided textbox and click Save.

6. Your new contract note email address should now appear in the list, as shown below. You can remove a secondary email address from the list by clicking the (

) icon to the right.