You can view news and company announcements for ASX and international stocks via the 'Stock Analysis' screen on the Selfwealth website.
To view news and announcements for a particular stock, follow the below steps:
1. Log in to the Selfwealth website.
2. Click Stock Analysis on the left-hand navigation bar (you may need to scroll down to see this option).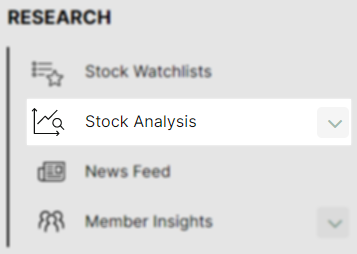 3. Type the name or ticker code of the holding you would like to look up into the search field and click Search Stock.

4. Click on the News and Announcements tab.

5. News and company announcements will be displayed below. To view a news item or announcement, simply click on the title.