This tool is found under the 'stock analysis' page from the left-hand-side menu.
The SelfWealth research tool, driven by Refinitiv, allows you to filter on your search results and explore opportunities.  Filtering options include Refinitiv recommendations and/or valuations, community sentiment, stock and/or index selection.
To access the filtering options simply click the funnel/filter icon at the top right of the screen. Below is an annotation of the research screen.
Shows the options available to filter search results
Refinitiv is the organisation that provides the data and was previously known as Thomson Reuters.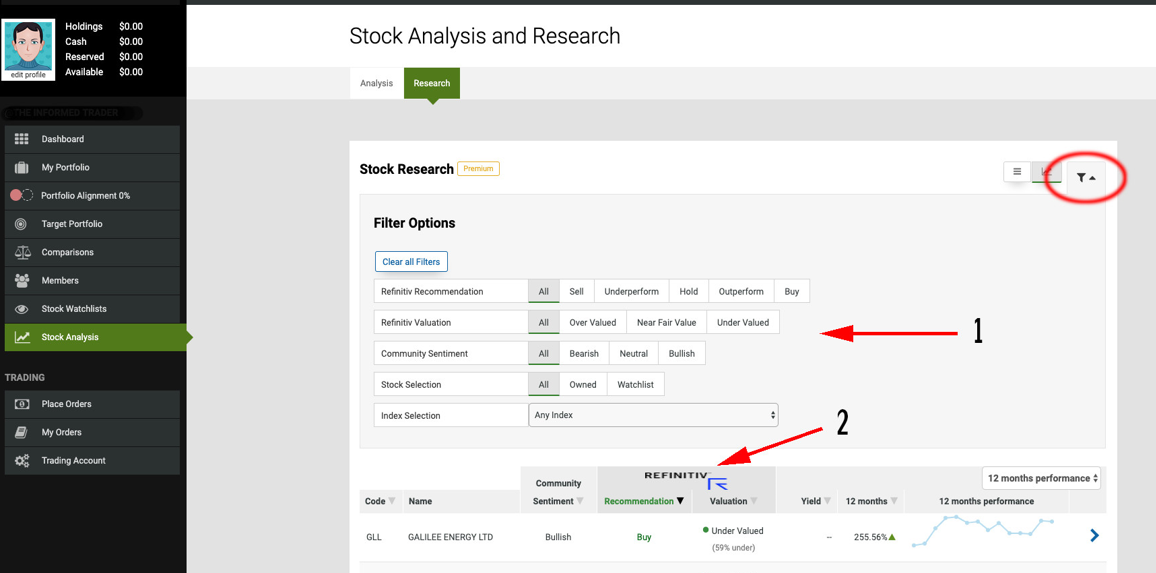 The icon with three horizontal lines shows the rank by market capitalisation, yield and percentage performance.

The icon with the graph shows the stocks performance over the time period selected.
When placing a buy or sell order, SelfWealth members are asked their opinion on the stock: bullish or bearish. Votes are then reflected by a majority vote in the community sentiment column.

A time period can be selected for the graph for performance review. The options are 1,3,6 and 12 months.

Data analysis, insights and value are provided by Refinitiv. 
Red = overvalued
Green = under valued
Yellow = near fair value
Black = no evaluation given