Unlike the Australian and US Markets where you have a free selection to buy any quantity of stock, the Hong Kong market requires trades to be completed in a specific quantity or multiples of that specific quantity. This is known as a 'board lot' or a 'trading unit'.
The board lot size of a listed stock in Hong Kong is determined by the company itself and can be viewed in the 'Quote' section on the 'Place Orders' page. Any order quantity which is not a multiple of the 'board lot' size is known as an 'odd lot' and is not permitted by the exchange.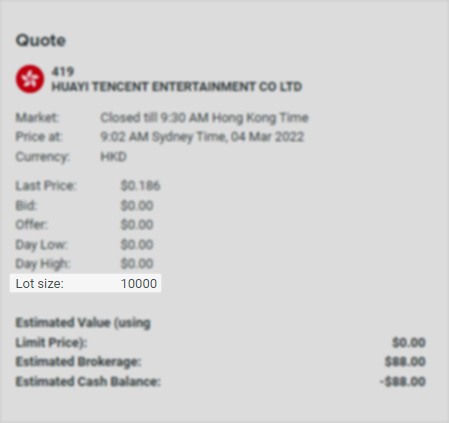 As an example, 'Tencent' has a 'board lot' size of 100. This means that if you wish to purchase securities in Tencent you have to purchase multiples of the 'board lot' size (e.g 100 units, 200 units, 300 units, etc.).
On the 'Place Orders' page, you can adjust your quantity in increments of the 'board lot' size using the Plus and Minus buttons under 'Quantity'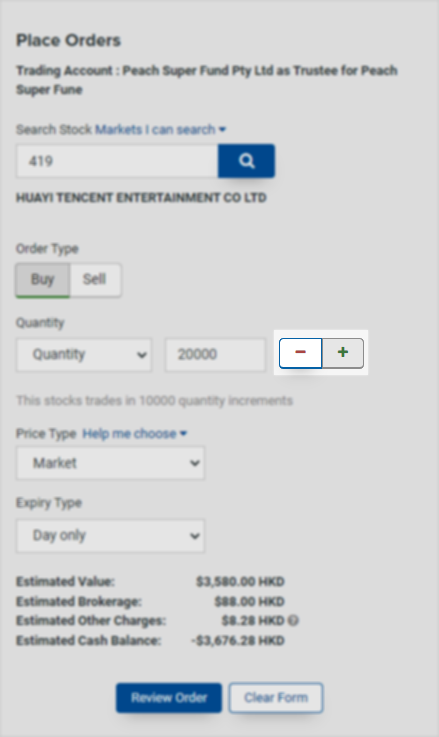 I have an 'odd lot' holding balance as a result of a corporate action, how can I trade it?
SelfWealth does not allow submission of trades by clients which do not comply with the 'board lot' requirement. As such, if you are allocated a holding which has an 'odd lot' quantity a trade will be placed in your account by PhillipCapital with the intent of converting all 'odd lot' units to HKD Cash.
Example of automatic sale of 'odd lot' holding:
Imagine that you hold 400 shares in 'Tencent' (Stock Code: 700). Tencent completes a bonus issue on a 1:3 basis resulting in an additional 133 shares. As a result of this, you now hold 533 shares in Tencent.
As the lot size of Tencent is 100, you would be unable to complete a sell transaction for the full quantity of 533 shares.
To correct this, within 1-2 business days PhillipCapital will automatically facilitate a sell order for the odd value of 33 units. Once completed, the proceeds received from the sale order will be showing in your account, net of any costs of facilitating that trade along with a generated contract note for your records.
The Tencent holding balance in your portfolio would now be 500 units, making it a fully tradeable parcel on the exchange.