Before buying US or Hong Kong shares, you need to add US Dollars (USD) or Hong Kong Dollars (HKD) to your respective international cash account. With Selfwealth, this is done by exchanging your Australian Dollars for your desired currency (and vice-versa) via the 'foreign exchange' (FX) market.
Please note: for instructions on how to transfer funds between your AUD and international cash accounts, please click here.
On the FX market, currencies are traded as pairs. For example, if you are moving funds from your AUD cash account to your USD cash account, you are selling the AUD/USD pair (i.e. selling your AUD and receiving USD as payment). Conversely, transferring USD to AUD would mean you are buying the AUD/USD pair.
The exact amount that you receive for your currency is tied to the 'exchange rate'. For example, if the AUD/USD pair is trading at 0.7200, this means that for every AU$1.00 traded, you will receive US$0.72.
Does Selfwealth charge a fee for foreign exchange?
When you convert funds between currencies with Selfwealth, a 'basis point spread' (BPS) will be applied. The BPS will vary depending on the currencies being exchanged, as shown in the below table:
| | | |
| --- | --- | --- |
| Original Currency | Destination Currency | Basis Points Spread |
| AUD | USD | 60 Basis Points or 0.006 |
| AUD | HKD | 500 Basis Points or 0.05 |
| HKD | AUD | 500 Basis Points or 0.05 |
| HKD | USD | 500 Basis Points or 0.05 |
| USD | AUD | 60 Basis Points or 0.006 |
| USD | HKD | 500 Basis Points or 0.05 |
It's important to note that the BPS is not applied as a percentage-based fee. Instead, it is applied as a buy/sell spread on the currency you are converting to.
For example, if you are converting AUD to USD and the official AUD/USD rate is 0.7200, then your rate with Selfwealth will be 0.7140 (0.7200 minus 0.0060) after the spread of 60 basis points is applied. If you're transferring in the other direction (i.e. USD to AUD), the spread is added instead of subtracted, meaning that for every US$0.7260 you convert you will receive AU$1.
Is there an easy way to calculate my foreign exchange fee?
In simple terms the foreign exchange fee you pay with Selfwealth will be as below (this covers conversion in both directions):
AUD/USD: US$0.60 per AU$100 transferred
AUD/HKD: HK$5.00 per AU$100 transferred
USD/HKD: HK$5.00 per US$100 transferred
How is the foreign exchange (FX) rate calculated?
The foreign exchange rate you receive with Selfwealth is provided by our international trading partner, Phillip Capital Pte Ltd. When you are submitting your transfer request, you will be provided with an indicative exchange rate (shown below).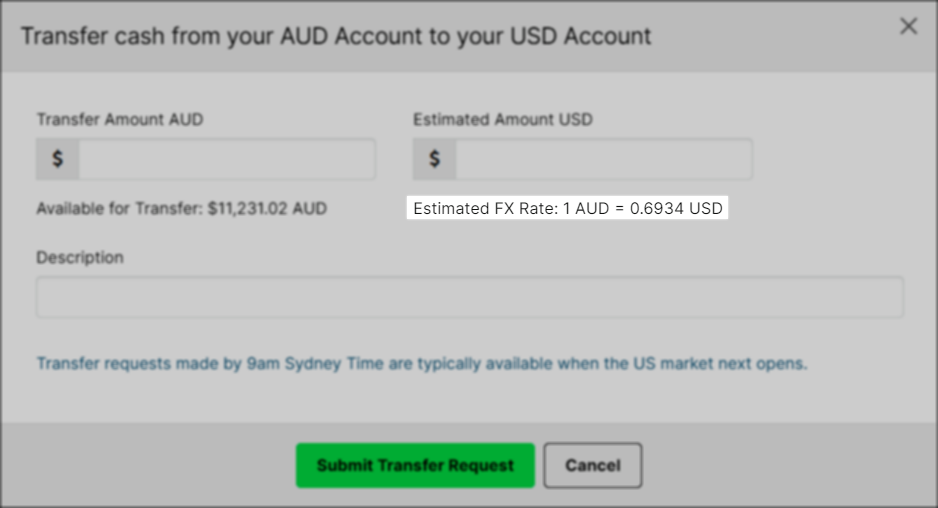 This indicative rate is provided as an estimate and may not reflect the final exchange rate. The provided exchange rate estimate is inclusive of the BPS spread (fee).
The actual rate used will be determined at the time of conversion, which is shortly before the funds become available in the destination account. Typically the actual rate will not differ significantly from the estimated rate.
Once your transfer is processed, you will receive an email notification containing your final exchange rate. The final rate will also be noted in your cash transactions, which can be found by clicking Trading Account > Cash Account.