You can transfer your international shares to SelfWealth by submitting a 'Transfer International Stock In' form via email. You will also be required to submit current photo ID for all account signatories.
Once your form is processed, the shares will be moved into your SelfWealth international share trading account (for more information on how your international shares are held, click here).
Does SelfWealth apply any fees or conditions when transferring international shares?
No, neither SelfWealth nor Phillip Capital will charge any fees for transferring your international securities to SelfWealth. However, the relinquishing custodian may charge a fee or apply conditions if you wish to transfer shares to SelfWealth.
For example, your current broker/custodian may impose a minimum transfer size, or charge a fee for each holding you transfer out. Additionally, some custodians and brokers will not allow transfers of any kind, or limit transfers based on your account type.
To avoid disappointment, you may want to discuss this with your current broker/custodian prior to submitting a transfer request.
Can I transfer fractional shares or odd lots?
SelfWealth does not support the trading of fractional shares or odd lots (for markets that use board lots such as Hong Kong). For each holding being transferred, the selected quantity must be a whole number. When transferring HKEX shares, the quantity for each holding must be a multiple of the board lot value for that holding.
For more information on board lots and odd lots click here.
What else should I be aware of before transferring my international shares?
Before completing the 'Transfer International Stock In' form, it is recommended that you confirm that your current broker/custodian supports the DTC transfer method. This is because SelfWealth's custodian (Phillip Capital) does not support transfers via the alternative ACATS or DRS methods.
Additionally, we can only support the transfer of shares held by the same beneficial owner as the SelfWealth portfolio. For example, transferring shares from a joint account to an individual account would result in a change of beneficial ownership, and is not allowed.
SelfWealth only supports the transfer of electronic holdings from another custodian and does not support the transfer of certificated holdings.
Completing the 'Transfer International Stock In' Form
You can download a copy of the 'Transfer International Stock In' form by clicking here.
The form is comprised of a checklist and two main sections. Before beginning, you will need to complete the checklist (shown below).

Section 1: Entering your Account Details
In the first section, you will be required to enter your account details with the broker the shares are being transferred from (the 'source' account), and the destination account with SelfWealth.
The required information for each field is outlined below:
The name under which the source account is registered (this can be an individual or entity depending on the account type).
The account number for the source account (you can get this information from your current broker).
The name of the broker from which you wish to transfer shares.
The email address and phone number for the other broker (most brokers have a preferred contact point which they will provide on request).
The name under which your desired destination portfolio with SelfWealth is registered (you can find this information by clicking Settings > Portfolios on the SelfWealth website).
Your PhillipCapital ID (you can find this by clicking Settings > Portfolios on the SelfWealth website)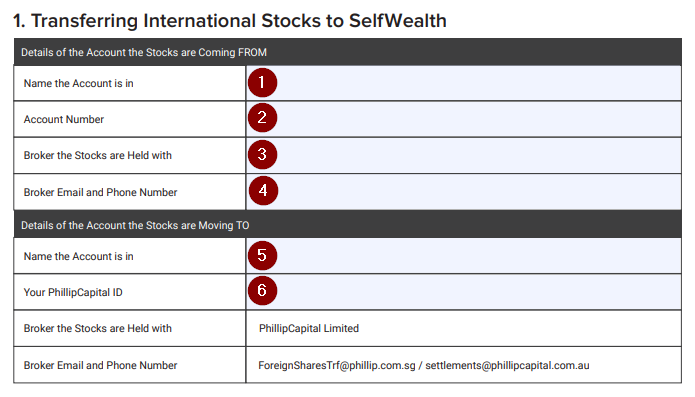 Section 2: International Stocks To Be Transferred
In the second section, you will need to enter the stocks which you wish to transfer. There are 4 fields that must be completed for each holding:
The holding code (e.g. TSLA for Tesla)
The full name of the holding (e.g. Tesla)
The market/exchange which the stock is listed on (e.g. NYSE, NASDAQ, HKEX)
The quantity being transferred (this must be a whole number)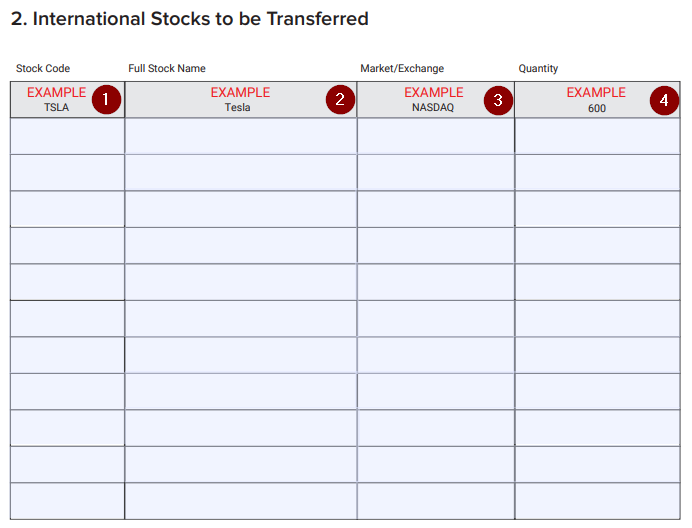 Each unique holding should be entered on its own line. If you are transferring more holdings than there are rows, you can simply print off a second copy of this page and sign it.
Signing the Form
All signatories on the destination portfolio must date and sign the form. This means that if you have a joint account, or trust account with multiple trustees, more than 1 signature will be required. For company accounts, you should sign in accordance with the company's constitution.
Your signature must be completed in wet ink, as SelfWealth cannot accept digital signatures.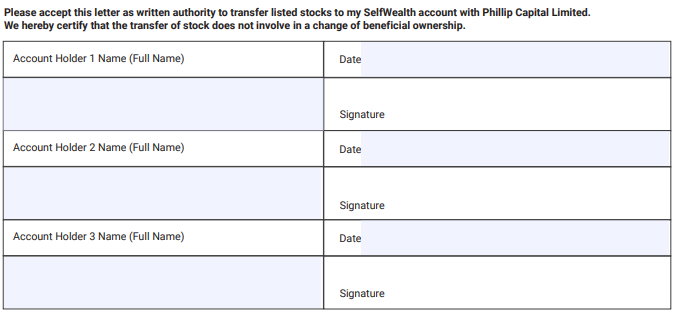 Once your form is signed, you can submit it to SelfWealth by attaching and emailing it to support@selfwealth.com.au. Once we have received your form please allow up to 10 business days for your transfer to be processed and the holdings to appear in your SelfWealth account.